Blue Mondays At Boardners In Hollywood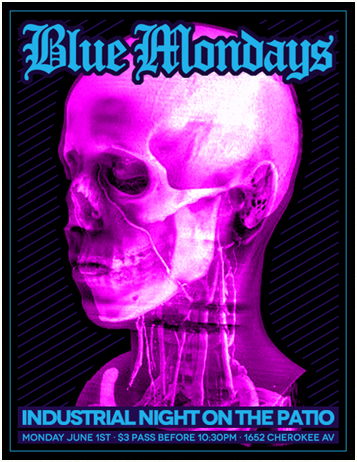 Monday May 4th...
RSVP:
https://www.facebook.com/events/676866495774398/
Flyer:
http://evilclubempire.com/blue-pass.html
May the Fourth be with you!
The first Monday of the month brings the return of Industrial Night on the Patio. As always, Blue Mondays offers you two killer rooms of music & retro arcade games in the loft...
The Eighties Room
- Bractune beats you down like a bitch, with the best music from the first MTV Generation, a great mix of totally hardcore retro EIGHTIES jams on Video. Its a mix of First Wave, New Wave, Dark Wave, & Post Punk... Everything from Depeche Mode & Madonna, to the Cure & the Smiths.
The Patio
- Bruce Perdew spins a 4 hour mix of Industrial, EBM, Electro, & Synthpop. You'll hear everything from Combichrist & Aesthetic Perfection to Nitzer Ebb & Front 242. Each of our Industrial nights have been packed, so don't miss out on this one.
Our upcoming parties...
05/04 - Blue Mondays - Industrial Night on the Patio
05/11 - Blue Mondays - Old School Hip Hop Night on the Patio
05/18 - Blue Mondays - 90's Night on the Patio
Blue Mondays at Boardners . 1652 Cherokee Ave . Full Bar . 10-2am
----------------------------------------------------------------------------------------------------------------
-
Add us as a Friend:
https://facebook.com/evilclubempire
-
Sign up on the Evil Club Empire email list:
http://app.streamsend.com/public/0VDs/2S4/subscribe
-
Discount Pass:
http://evilclubempire.com/blue-pass.html
----------------------------------------------------------------------------------------------------------------