Clockwork Orange At Los Globos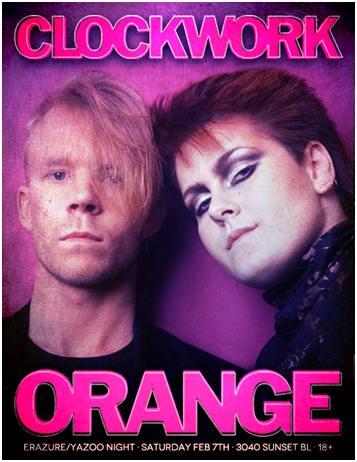 Erasure/Yazoo Night at Clockwork Orange
RSVP:
https://www.facebook.com/events/1389607551347476
This month we're doing something we haven't done before - ERASURE/YAZOO Night. Which in essence will turn out to be a Vince Clarke Night, since he was in both and wrote the music. So we'll be adding lots of early Depeche Mode into the mix, since he started with them.
To make our night different from the others, we play music videos for pretty much every song - Old School MTV style. You'll see some rare TV footage you may have never have seen before, all remastered to sound amazing on the massive Los Globos sound system.
Bruce Perdew spins a kick ass retro mix of First Wave, Eighties New Wave, Dark Wave, & Post Punk all on music video. From Morrissey & Joy Division to Siouxsie & the Cure, tons of great stuff! Relive you youth, and dance to some of the best music ever made!
Clockwork Orange at Los Globos
3040 W Sunset Blvd.
West of Alvarado . Silverlake
18 & Over . Full Bar . 10-2am
----------------------------------------------------------------------------------------------------------------
-
Add us as a Friend:
https://facebook.com/bruce.perdew
-
Sign up on the Evil Club Empire email list:
http://app.streamsend.com/public/0VDs/2S4/subscribe
----------------------------------------------------------------------------------------------------------------