Perversion at Los Globos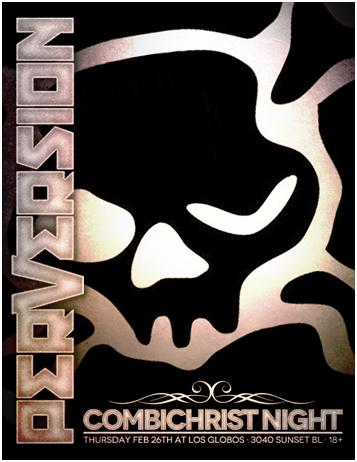 Thursday February 27th...
RSVP:
https://www.facebook.com/events/1590012177896287
PASS:
evilclubempire.com/perversion-pass.html
We're back for the last Thursday of the month at Los Globos. Last month the neighborhood had a power outage, and we were not able throw our event. This time we promise the power will be on!
This time we're trying something new, a Combichrist night. As with our other clubs, our tribute night allow us to go deeper into the artists catalog of music. We get to spin songs that we usually don't play. And if you're a fan of the group, then you'll definitely want to attend.
For one night only, this month PERVERSION is back at Los Globos with another pop up party.
Perversion will be in the downstairs main room, with Djs Amanda Jones, Bruce Perdew and Michael Stewart spining a stompy mix of Industrial, EBM, Dark Techno, Goth & Post Punk, plus videos all night long.
See You There!
Perversion At Los Globos
3040 Sunset Blvd . Silverlake
18 & Over á Full Bar á 10-2am
----------------------------------------------------------------------------------------------------------------
-
Add us as a Friend:
https://facebook.com/evilclubempire
-
Sign up on the Evil Club Empire email list:
http://app.streamsend.com/public/0VDs/2S4/subscribe
-
Discount Pass:
http://evilclubempire.com/blue-pass.html
----------------------------------------------------------------------------------------------------------------